We Have Your Bounce House Rental
& Water Slide Rental In Smyrna
Free Delivery & Set Up
Book Online Now
We Have Your Favorite Bounce House Rental & Water Slide Rental In Smyrna
Free Delivery & Set Up
Smyrna's Ultimate Bounce House Experience: Jump, Laugh, Repeat!
Jump and Slide is your passport to a world where fun knows no bounds, and laughter fills the air. Our bounce house rental collection is the spark that ignites the party and the magic that keeps the joy alive!

Imagine the look on your child's face as they enter a world filled with towering, vibrant bounce houses. Your Smyrna area backyard resonates with excitement and is soon filled with the infectious sound of laughter and the rhythmic beat of bouncing feet. And you exchange a knowing smile with other parents, basking in the glory of being the party hero.

A bounce house rental is not just an inflatable; it's the playground of imagination. Here, superheroes take their first flight, pirates embark on treasure hunts, and every jump is a dance with the stars. Our inflatable bounce houses will become the heart of the party, radiating joy and creating memories that will be cherished forever.

At Jump and Slide, we're not just providers of fun; we're architects of joy. We celebrate the kind of happiness that makes you lose track of time, where the only goal is to keep the bounce alive. Whether you're planning a birthday extravaganza, a community gathering, or a day of backyard jubilation, an inflatable bounce house is your key to creating unforgettable memories. With Jump and Slide, you're not just throwing a party in Smyrna–you're launching an epic adventure, one bounce at a time!
Slide into Summer: Water Adventures Await in Smyrna
Attention all parents and party planners in Smyrna looking to elevate their next event into a wet and wild wonderland! Introducing Jump and Slide, your go-to destination for a refreshing water slide rental experience that will have everyone buzzing with excitement!

Imagine a world where laughter echoes, water splashes in harmony, and excitement reigns supreme. The sun is shining, and anticipation builds as your young guests spot our awe-inspiring water bounce house standing tall and proud in the backyard. This towering beacon of aquatic fun is a sight that will make every heart race and inner child leap with joy!

Your young adventurers will climb to the peak of the tallest water slide rental, their hearts pounding with adrenaline as they prepare for the ride of their lives. The view from the top is a breathtaking panorama of joy and excitement that stretches as far as the eye can see. With a deep breath and a burst of courage, they'll zoom down at lightning speed, accompanied by the exhilarating rush of water. Pure, unadulterated joy!

But it's not just about the water slide bounce house. It's about the enchanting memories you'll craft with your loved ones. The radiant smile on your child's face as they triumphantly navigate the slide. The friendly rivalry between friends as they race to the finish. And the refreshing splash that offers a cool respite on a hot summer day. With Jump and Slide, you won't just rent water slide; you're creating a splash-filled adventure that will be remembered for a lifetime!
Order-by-Date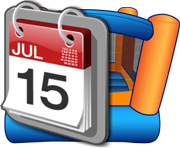 Bounce Houses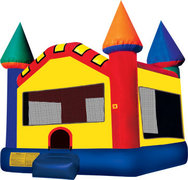 Interactive Games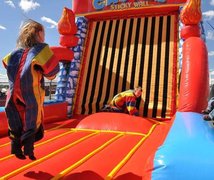 Dry Slides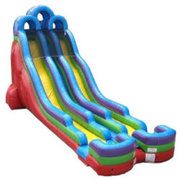 Water Slides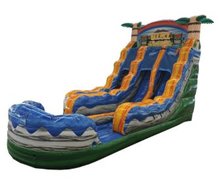 Event Extras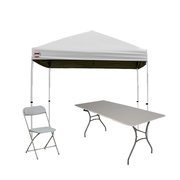 Smyrna's Heartbeat of Fun: Jump and Slide into Unforgettable Celebrations
With Exciting Bounce Houses, Water Slides, and More!
Welcome to Jump and Slide, where every Smyrna event becomes a festival of joy and every smile is a testament to fun! We're not just an event rental service; we're your partners in creating unforgettable memories that will resonate with hearts young and old.

Transforming your backyard into a carnival of laughter will make your children's eyes sparkle with excitement as they discover a world filled with bounce houses, water slides, inflatable games, kids obstacle courses, carnival games, and more. Picture the delight on their faces as they embark on adventures that only Jump and Slide can provide. You're not just hosting a party–you're orchestrating a symphony of happiness!

From school fairs, church gatherings, birthday bashes, and community celebrations, Jump and Slide is your key to unlocking a treasure trove of fun. Our diverse range of inflatables is designed to cater to every imagination, every dream, and every heart that yearns to jump and slide.

But what sets us apart is our commitment to your joy. We understand that every event is unique, and we tailor our services to ensure that your special day is a reflection of your vision. Our team of experts is dedicated to delivering not just inflatables but a seamless experience that will leave you free to enjoy the magic of the moment. We even have chair and table rentals to cover your event seating.

Smyrna, it's time to elevate your celebrations to a whole new level of excitement. Let's create a world where fun knows no bounds, where laughter is the melody, and where every jump is a dance with joy. With Jump and Slide, you're not just renting inflatable fun– you're embracing a philosophy of fun that will make your event the talk of the town!
Simple Online Booking For Your Bounce House Rental, Water Slide Rental, And More!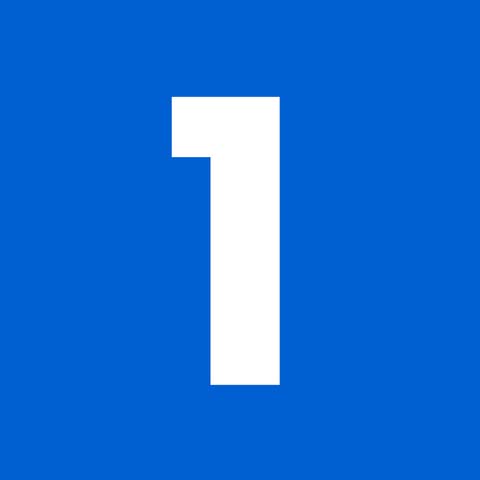 Easy Scheduling
Choose a full day or weekend long rental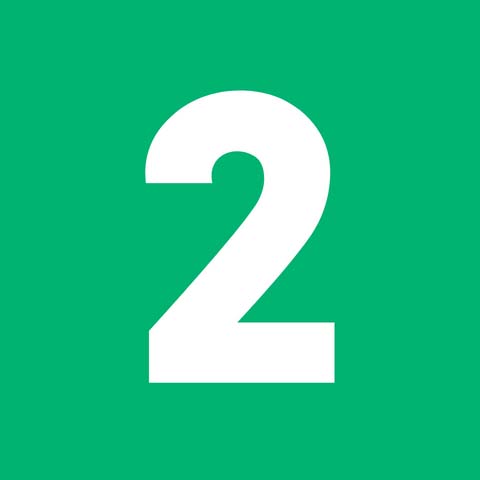 awesome products
Browse the available items and add to cart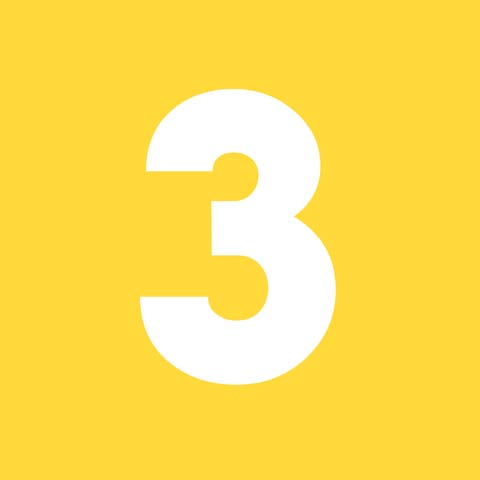 fast checkout
Enter the event information and pay a small deposit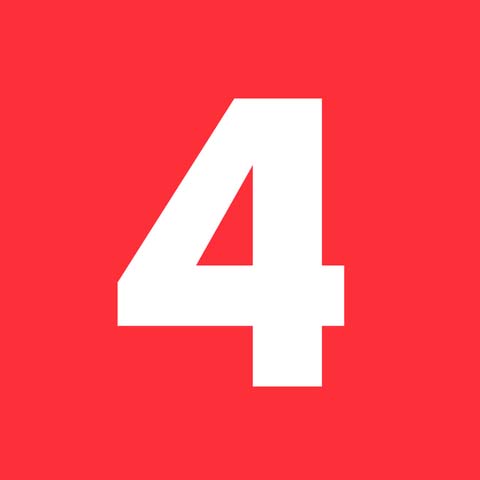 We Deliver

We deliver, set up, and pick up for FREE!
Your Community, Our Playground: Jump and Slide Delivers to Smyrna!
At Jump and Slide, we believe that fun should know no boundaries. That's why we're committed to delivering our bounce houses, water slides, interactive games, and other party essentials to communities all across Smyrna. Our mission is to spread joy, laughter, and unforgettable memories, one neighborhood at a time!

Whether you're nestled in the heart of Smyrna or residing in its charming suburbs, our team is ready to bring the party to your doorstep. We understand that every community has its unique vibe, and we tailor our services to resonate with your local culture and spirit. From urban celebrations to countryside gatherings, Jump and Slide is your trusted partner in fun.

Our delivery process is seamless, efficient, and designed with your convenience in mind. We take care of the logistics, setup, and breakdown, allowing you to focus on what truly matters: enjoying the celebration with your loved ones. Our professional team ensures that every inflatable is clean, safe, and ready to be the star of your event.

Smyrna, we're more than a rental service–we're your neighbors, your friends, and your partners in creating magical moments. With Jump and Slide, every community is a canvas, and every celebration is a masterpiece waiting to unfold.



Do You Deliver Inflatable Rentals Near Me In Smyrna?
The answer is Yes! Jump and Slide is the #1 supplier in GA of Inflatable Party Rentals such as Bounce Houses, Water Slides, Interactive Games, Obstacle Courses, Dry Slides, Carnival Games, Inflatable Games, Tables and Chairs, Concession Equipment, Event Extras, and much more! Rent your next inflatable rental with Jump and Slide and get ready to party!

Click here to see a complete list of our delivery areas!
Our Service Area
Proud to Serve The Following Areas:
If your party or event is beyond that radius, just let us know! We may be able to make special accommodations to suit your event.
NOTE: Fees may vary depending on how far you are outside our service area.
https://www.google.com/maps/embed?pb=!1m18!1m12!1m3!1d53013.9645658239!2d-84.515771!3d33.854282399999995!2m3!1f0!2f0!3f0!3m2!1i1024!2i768!4f13.1!3m3!1m2!1s0x88f50c3d75fa13e7%3A0x996104eec4f504a3!2sSmyrna%2C%20GA!5e0!3m2!1sen!2sus!4v1667477845266!5m2!1sen!2sus
What customers say about Jump and Slide
Easy 24/7 Online Ordering
Select the Date and Time of your event
Select the items you are interested in
Enter your information
Pay a small deposit or pay in full
It's that simple!
Why Choose Jump and Slide
Great customer service that works with you
Always receiving new inventory
Inspected by Manufacturer Certified Repair Technicians
All of our equipment is high quality, clean, and sanitized
FREE delivery with guaranteed on-time delivery and set up
Jump and Slide Customers Often Shop For:

Bounce Houses
Get ready to bounce the day away with friends with one of our fun bounce houses. Perfect for everything from birthday parties or even just a fun day with friends. Your kids and guests will thank you for the fun! For added fun, rent a bounce house with slide!

Obstacle Courses
There is no better way to build teamwork and friendships than a few rounds in our obstacle course rentals. Our obstacle course bounce houses are strong enough for older racers yet soft enough for even your youngest jumper!

Water Slides
Ready to make a splash? You're sure to do just that with one of our water slide rentals at your next party or event. These are the perfect way to beat the heat and create lasting memories. We have water slides of all sizes for everyone.
Jump and Slide' Commitment To Excellence
At Jump and Slide, quality isn't just a standard–it's our passion and our promise. We meticulously handpick our inflatables, ensuring that each bounce house, water slide, obstacle course bounce house, carnival game, and inflatable game meets the highest standards of safety, durability, and fun. Every stitch, every seam, and every bounce is a testament to our commitment to excellence in Smyrna. We believe that every jump should be a leap into joy, and every slide should be a glide into laughter. Our inflatables are not just rentals; they're invitations to a world where imagination takes flight. They are cleaned, inspected, and maintained regularly, ensuring that your event is not only fun but safe as well.

Service Beyond Expectations

We believe that excellence in service is the cornerstone of every memorable event. Our team is dedicated to understanding your needs, aligning with your vision, and delivering a seamless experience that leaves you free to enjoy the magic of the moment. From the moment you reach out to us to the final goodbye, our focus is on making your event a reflection of your unique personality. We listen, we understand, and we tailor our services to ensure that your celebration in Smyrna is a success. With Jump and Slide, you're not just a customer; you're a valued partner in joy. Our professional team ensures timely delivery, perfect setup, and hassle-free breakdown, allowing you to be the host with the most!

Integrity and Transparency

Our commitment to excellence extends to our business practices. We pride ourselves on transparent pricing, clear terms, and unwavering integrity. Our promise is unwavering, and our dedication to your happiness is absolute. With Jump and Slide, there are no hidden surprises, only delightful experiences. We're here to build trust, foster relationships, and celebrate with you, one unforgettable event at a time. Our pricing is clear, our terms are straightforward, and our promise is steadfast. We value your trust, and we work diligently to earn it every day.

Unforgettable Memories

Excellence is about creating memories that last a lifetime. It's about the laughter that echoes long after the party ends, the smiles that linger in photographs, and the stories that become family legends. With Jump and Slide, every event is a canvas, and every memory is a masterpiece, painted with love, care, and a commitment to excellence. We invite you to experience the Jump and Slide difference, one bounce, one slide, and one unforgettable memory at a time. Whether it's a child's birthday, a community festival, or a family reunion, we turn ordinary events into extraordinary celebrations, filled with joy, connection, and a sprinkle of magic.
Let Jump and Slide Atlanta Help You Craft An Unforgettable Party Adventure
As you set out on your adventure to plan an unforgettable event, remember that Jump and Slide Atlanta is your partner in creating extraordinary party fun. We're not just about inflatables; we're about bringing joy, laughter, and a sense of adventure to every gathering. Our extensive range of rentals goes beyond inflatable bounce house, water slide rental, carnival game rental, and obstacle course rental. We also offer concession machine rentals, including popcorn machine rentals, cotton candy machine rentals, and snow cone machine rentals, to add a delightful touch to your event. And don't forget our chair and table rentals, ensuring your guests have a comfortable place to rest, eat, and socialize.

We're proud to serve the greater Atlanta area, transforming backyards, schoolyards, and kids of community event spaces into vibrant party venues. Our commitment to safety, quality, and exceptional customer service is unwavering. We're not just delivering party equipment; we're delivering a promise of excellence, a commitment to our community, and a dedication to creating memorable experiences.

So, whether you're a parent planning a birthday party, a teacher organizing a school field day or festival, or a community event planner arranging a local event, remember: with Jump and Slide Atlanta, you're not just planning a party, you're crafting an adventure. From the thrill of the slide to the comfort of our chairs, from the bounce of our houses to the taste of our concessions, we're here to make your event truly extraordinary. Let's create something magical together!