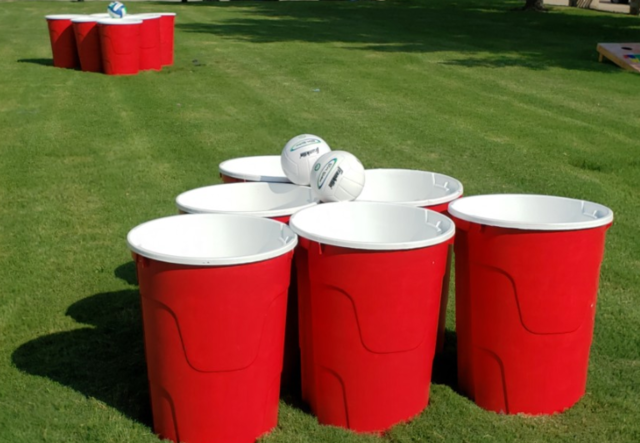 Gentle Giant Yard Pong
Displayed Pricing = Up to 6 Hours (additional hours = 10% more per hour)
Next Day Pickup After 10 AM = 25% More
BEST VALUE - Multi-day = 50% More
PRICES INCLUDE DELIVERY & SETUP
Are you looking to bring a classic party game to life? Gentle Giant Yard Pong adds a twist to the original table pong game! Instead of lightly tossing a ball into a cup, you'll test your accuracy and strength by throwing volleyballs into 20-gallon, heavy-duty red containers. Your guests will be amazed to see these containers, which are life-sized replicas of the classic Solo cup.
The rules are super simple: two shots per turn, and for every shot made, a container is removed. The first person/team to eliminate all containers wins! The containers can only be rearranged once per game, and you can play this thrilling game with or without filling the containers with water.
We've included twelve 20-gallon red containers and two volleyballs. Our containers can be set up on any surface, indoors or outdoors, as they are light and easy to move around. Introduce your guests to the game that brings laughter and teamwork to any event.
Book the Gentle Giant Yard Pong today!

Why Choose our Gentle Giant Yard Pong?
Includes 12 20 gallon heavy duty red containers and 2 volleyballs
The containers are designed just like Solo Cups to make it feel just like a large version of Table Pong
Containers are light and easy to move, so they can be set up on ay surface, indoors or outdoors
Even if the containers aren't filled with water, they are heavy enough to not tip over when the ball lands in them
Why Choose Jump and Slide?