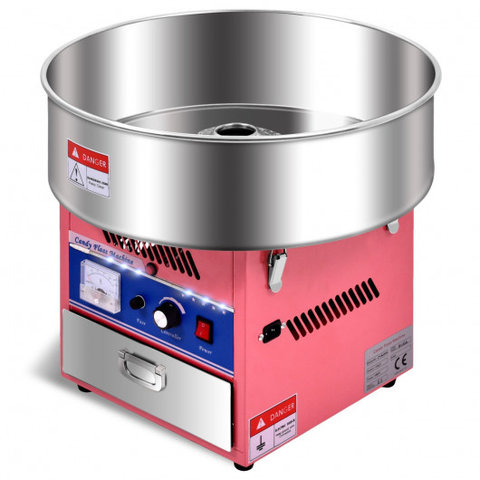 Cotton Candy Machine Medium Volume
Outlets: 1 - GFI Required within 75ft




Displayed Pricing = Up to 6 Hours (additional hours = 10% more per hour)
Next Day Pickup After 10 AM = 25% More
BEST VALUE - Multi-day = 50% More
PRICES INCLUDE DELIVERY & SETUP
Are you looking for a cotton candy machine for your special event? Its more modest volume makes it a top choice for small, backyard-type events.
High-tech and adjustable, this machine ensures the proper temperature for perfect cotton candy every time. Your guests won't have to wait long because this machine makes approximately 25 servings per hour.
This magical, easy-to-use machine is equipped with rubber tips on the bottom for increased steadiness on level surfaces. It also has netting around the bowl that helps the cotton candy stick, making it easier for guests to grab. Just add sugar and cones, which you can find in our selection of wonderful cotton candy supplies, and add tasty fun to your next event.
Book the Medium Volume Cotton Candy Machine today!
Why Choose the Medium Volume Cotton Candy Machine?
Medium volume makes this machine more suitable for smaller, backyard-type events
Rubber tips on the bottom of the machine keep it from sliding
Adjustable temperature to make sure the cotton candy is the right density
Netting around the bowl makes the cotton candy stick and easier to grab
The machines are quiet when in use, so they won't disrupt the event
Why Choose Jump and Slide?