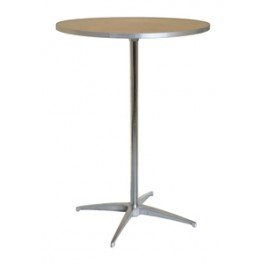 30 Inch Round High Top Cocktail Table
When you're putting on an event where guests will be mingling drink-in-hand, you need to buy cocktail tables to have at the ready. These amazing tables create a natural gathering space at events, with enough room for 2-4 people to have a conversation. Our high top cocktail tables come with only two pieces to assemble, making it easy to take a table down and reassemble it if you need to rearrange your event. Order your 30" Round Cocktail Table Today!
For set up and take down pricing, please give us a call at 404-537-1805.
Why Choose our 30 Inch Round Cocktail Table?
Smaller table size allows for more intimate and personal conversations
Capable of hosting a fitted table cover to give extra protection and add some color
The finished, coated table is waterproof and stain resistant, so no need to worry about spills!
Tables disassemble and are lightweight, making them easy to move if you need to rearrange your event
Why Choose Jump and Slide?