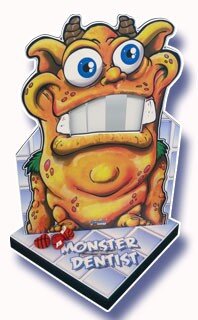 Monster's Grin Stand-Up Game
Displayed Pricing = Up to 6 Hours (additional hours = 10% more per hour)
Next Day Pickup After 10 AM = 25% More
BEST VALUE - Multi-day = 50% More
PRICES INCLUDE DELIVERY & SETUP
Searching for the game that challenges your accuracy and strength? The Monster's Grin Stand-Up Game puts your aim to the test as you throw one of three sandbags at the taunting monster.
Do you have the skills to knock out all four teeth with the three sandbags we've included? It's easy to learn but hard to master, making it the perfect activity for family gatherings or friendly competitions between friends. In case you change your mind and want to move this game to a different location, its small size and light weight make it easy to relocate!
This thrilling game is a top choice for any event, especially for tailgates, backyard parties, and carnival events. Test your aim by booking the Monster Dentist Stand-Up carnival game today!
Why Choose the Monster's Grin Stand-Up Game?
Small size and light weight makes it easy to move and put in the perfect spot at your event
The includeds 3 sand bags
Great for fundraisers, easy to set up a ticket system per turn
Why Choose Jump and Slide?