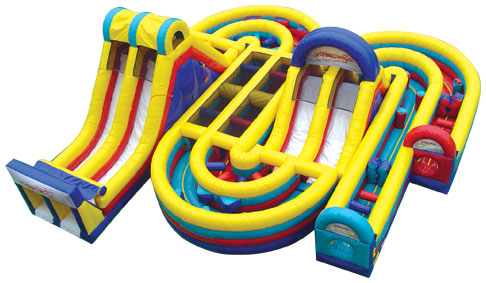 Adrenaline Rush Obstacle Course
The Adrenaline Rush® Extreme is the penultimate achievement in the 360 degree modular obstacle course design! This amazing obstacle course has a winding 1850 square foot dual lane maze of interactive features! This 3 piece attraction includes a double lane climb and slide, a curved dual lane obstacle track and a double lane slide/obstacle track combo piece! Set up in the original configuration, the course is a full-length race. After racing through the pipe entrance of the Adrenaline® Extreme, the riders are immediately challenged with pop outs and squeeze walls obstacles. Midway through this extreme course the riders are met with a rock climb, which once conquered provides a turbo-boosted acceleration down the slide to give you the speed you need to maneuver past even more indomitable pop out and squeeze wall curves. As the riders reach their champion finish they are met with a final mammoth rock climb and final triumphant descent down the exiting slides!


Book Now!
  Inflatable Obstacle Course Rentals
Atlanta Obstacle Courses
The challenge is on! Get your group together for these exciting obstacle course rentals. Obstacle courses or "challenge courses" offer an awesome activity for all kinds of events. Great team building exercise for corporate events, schools and church groups, or rent one if you're just having a fun family gathering and you would like to add that extra attraction that brings everyone together. Here at Jump and Slide, we take great care in making sure our dry slides are clean, safe, and fun for everyone. We work with families and companies all over the Atlanta area that are looking to add some fun to backyard parties, large events, and much more. Some of our great customers include The Walker School, Georgia Tech, many schools and churches, in Gwinnett County, DeKalb County, Fulton County, and Cobb County, Top Golf, the Atlanta Falcons, and more. If you're looking for value, fun, a great inflatable dry slide, and maybe even some concessions for your event, choose Jump and Slide. You're sure to love it!
Our Obstacle Course Inflatables
You can't go wrong with any of our licensed themed inflatable obstacle course rentals. Whether you're looking to
add some team building to your event
or you want to give yourself
the ultimate obstacle challenge
, we've got you covered. Our obstacle course rentals are commercial quality, which means that they are made of high quality, waterproof vinyl, and made to last for years to come. Unlike obstacles that you can buy at a local retailer, our inflatable obstacle courses include some of the highest safety standards. In addition, we clean and sanitize our obstacle courses after each use. Yes, we do encourage our customers to take care of them and bring them back in a similar condition in which they receive them, but we take the additional step of doing the same upon their return. Our obstacle courses have all sorts of different challenges and lengths that range from 31 feet to 115 feet! You can't go wrong with choosing Jump and Slide for your event needs.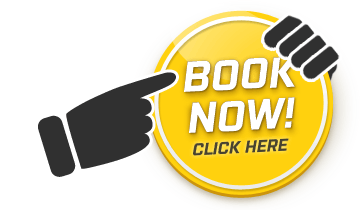 Obstacle Course Rental Bookings
1. Select the date and times for your event.
2. Select the obstacle course rental you are interested in.
3. Input your information, as well as where the event will be held.
4. Pay a small deposit or pay in full.
Take the Stress out of Your Inflatable Obstacle Course Rental
Not only is the ordering process seamless, the confirmation, setup, and pickup process is a breeze as well!
Before you begin ordering, you can request a
FREE consultation for your event.
One of our representatives will contact you within 24 hours and help you determine the best items and the best places to put them at your event. Take the stress out of ordering for your large event for free!
You can either choose to rent your obstacle course and other items yourself with our easy online ordering process, or you can choose to call, email, or live chat with one of our team members and they will take you through the ordering process.
After you rent an obstacle, a member our team will contact you within 24 hours to review and confirm the order. Then, on the day of the event, your delivery driver or team will call you to verify the window in which they plan to arrive. Once we arrive, we will:
1. Set up the equipment in the safest location possible.
2. Collect payment if anything is due.
3. Show you how to operate the equipment safely (event attendants are also available for an additional charge if you would like us to stay and operate the equipment)/.
4. Answer any questions you may have and verify pickup time.
That's it! A simple and fun way to rent an obstacle course.
Obstacle Course for Rent FAQs