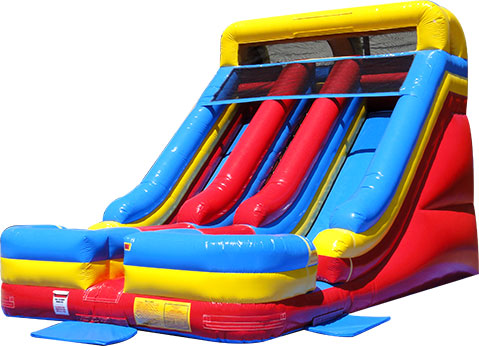 18' High Big Double Dry Slide
This attention-getting colorful 18' High Big Double Dry Slide is sure to be the center of attention at any type of event. With dual lanes, you can have twice the fun! The 18 Big Double Slide is a perfect ride for large crowds and competitive spirits looking to race up and down the slide. Its "no jump" safety meshes at the top and high inflatable side walls ensure that riders enjoy the slide safely.



Book Now!
  Dry Slides
Large Inflatable Slide Rentals
Whether it's the wind rushing through your hair or the rush you get from the drop, everyone loves the feeling of going down a slide. That's just one of many reasons an inflatable slide is such a fun addition to your next important event - school carnival, community celebration, or family reunion. Jump and Slide Atlanta has the best selection of inflatable slide rentals and you can choose just the right color and size to fit your event. Browse the inflatable slide rentals below and click on the title or image for more information or to request a quote.
Why choose our Dry Slides?
Our Inflatable Dry Slide rentals come in various sizes, and colors, perfect for any event size or theme.
Our Inflatable Dry Slide rentals are safe, commercial grade, fire retardant, lead free, and consutrcuted to meet ASTM rental industry standards.
We carry Atlanta's largest line of Inflatable Dry Slides, including our largest, the TITANIC, which is 32' tall!
We have a very easy to use online ordering process available 24/7.
Why Choose Jump and Slide?
Safety is our top priority.
Our products are cleaned after each use.
We set up equipment properly and in the safest area of your event.
We guarantee on-time delivery.
We are licensed and insured.
We deliver to the entire Greater Atlanta Area, from Macon to Tennessee.