Looking to host a carnival themed event? We have what you need to make your carnival a huge success. Whether you are looking for the more nostalgic carnival games, or wanting to spice things up and have some show stopping large rides, we've got you covered. So, bring the hammer down with the Hi Striker, bounce around on our themed jumpers, keep your guest entertained with our interactive games, and fill their bellies with some amazing carnival concessions. You are sure to be the hostess with the mostest with these awesome options.

Can't find what you are looking for? Call us, chat with us on our live online chat feature, or send us a message on the contact form at the bottom of the page.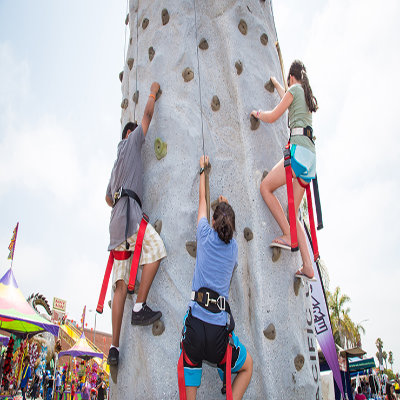 Rock Wall
Our 25' Rock Wall is sure to bring a ton of fun, competition, and thrills to your next event. This rock wall hosts up to 3 climbers at a time and is suitable for kids and adults.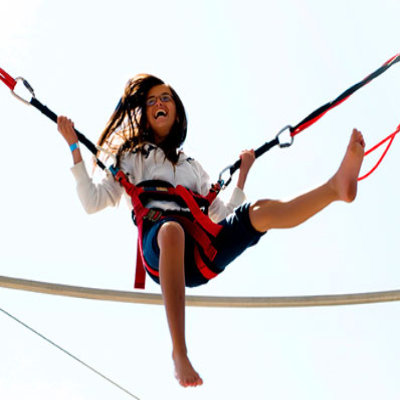 Monkey Motion
Take fun to new heights at the next outdoor corporate event, field day, or school fundraiser, with the 4-person Monkey Motion Bungee Trampoline rental.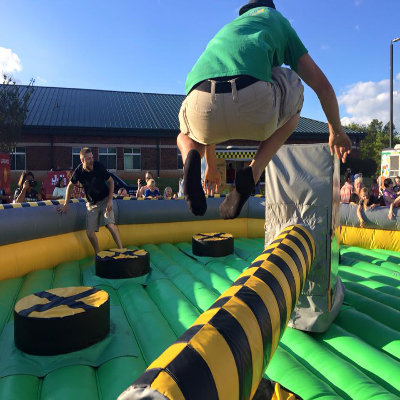 Toxic Meltdown
Toxic Meltdown is our 8 player action game, which challenges your stamina, agility, and reactions.
Carnival Dunk Tanks and Hi Strikers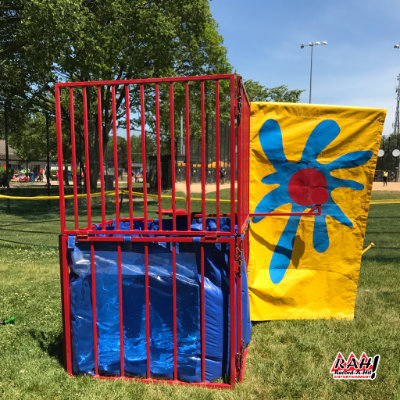 Dunk Tank - L
Our traditional Dunk Tank adds a ton of laughs and excitement to any type of event. Kids love to see their school principal, church leader or coach take a splash.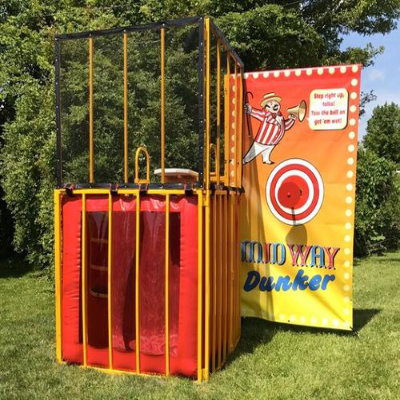 Dunk Tank - XL
Looking for a dunk tank of larger scale? Our extra large dunk tank is 33% bigger than our large and holds 450 gallons of water!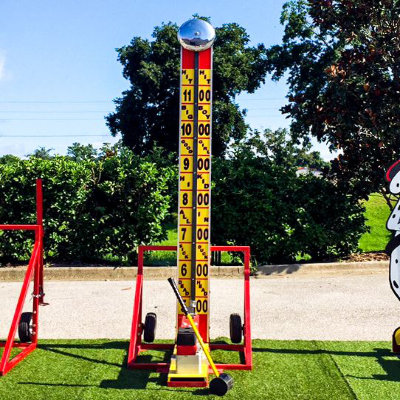 High Striker
The High Striker Game is a traditional carnival game that adds excitement as everyone watches to see if you can ring the bell.
Traditional Carnival Games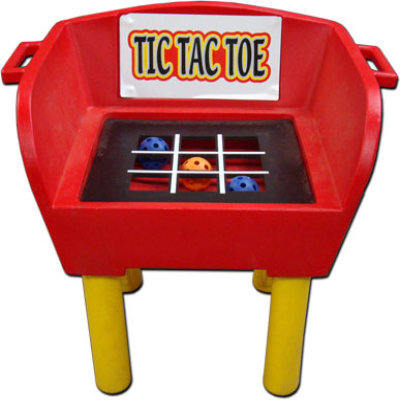 Carnival Game Package
Check out the most popular carnival table-top games we have. Tic Tac Toe, Color Throw, and Ring Toss!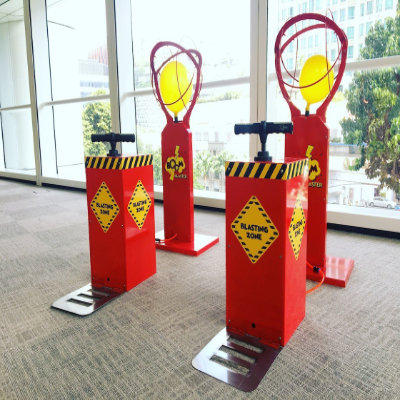 Boom Blasters
Compete against another player to see who can pump up their balloon the fastest. Whoever pops their balloon first, wins!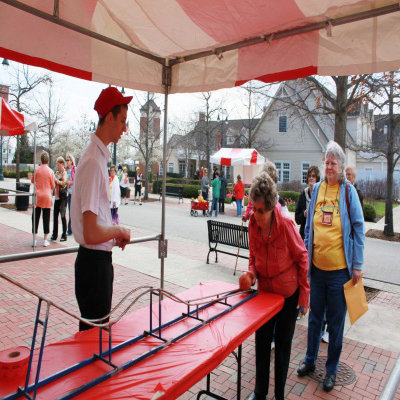 Roller Bowler
This carnival game is much harder than it looks. Roll the ball too fast or too slow and you lose. It's got to be just right

.
Carnival Themed Inflatables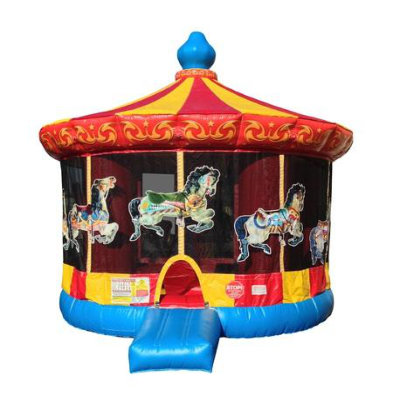 Carousel Bounce House


The outside is decorated with horses and a spinning top, and the inside is circular, which all gives users the feel of a real carousel with this bounce house!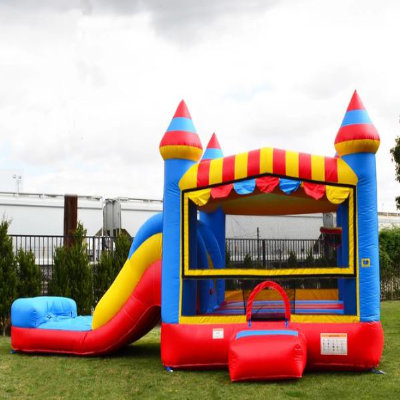 Circus Bounce and Slide Combo

Ladies and gentleman, grab your seats, grab your popcorn, because the show is about to start; watch your kids enjoy clowning around in this amazing combo.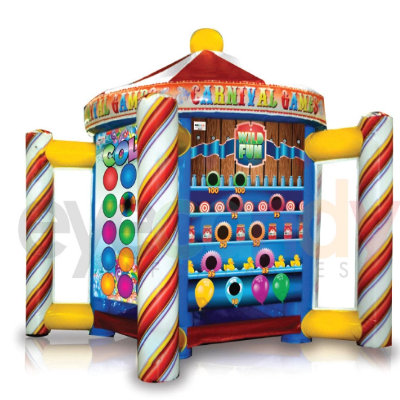 Carnival Midway Game


Ladies and gentlemen, boys and girls, guests of all ages! Step right up and try your luck at these classic carnival games.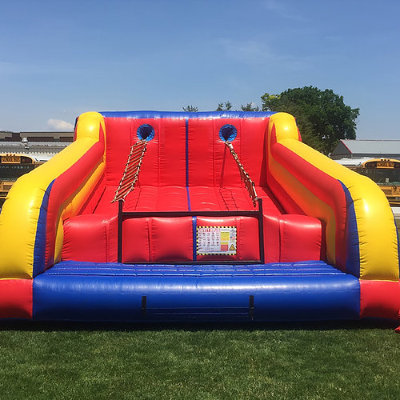 Jacob's Ladder
Test your balance skills with this inflatable version of a carnival classic. Challenge a friend or family member on Jacob's Ladder at your next event!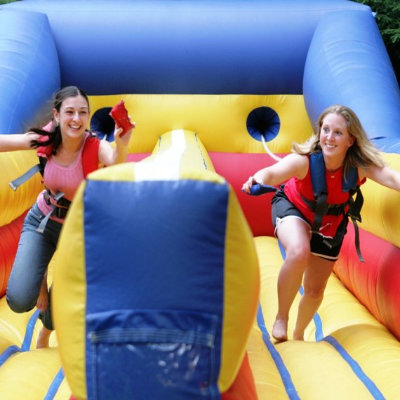 Bungee Run
Strap yourself into the harness and run as hard as you can to beat your opponent. Make sure you place your marker before the bungee cord snaps you back!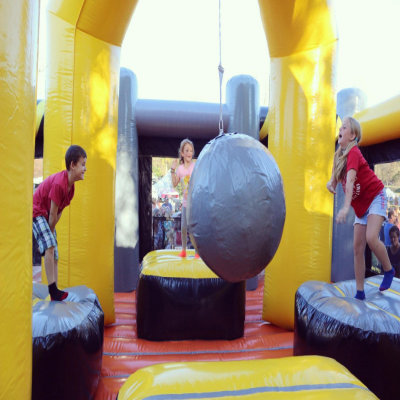 Wrecking Ball
Wrecking ball is the ultimate real-life battle royale! Stand on the pedestals and swing the ball at your opponents until you're the last one remaining. Just watch out for the ball to swing back at you!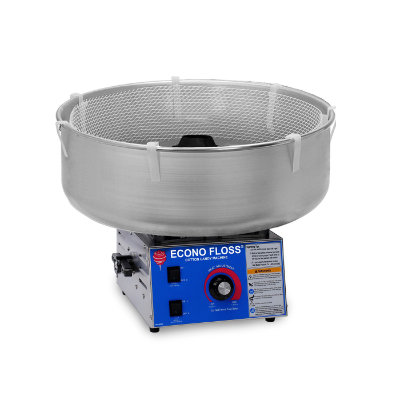 Cotton Candy Machines
This Traditional Commercial Cotton Candy Maker is perfect for higher volume events - More than 50 per hour! This machine is very easy to use.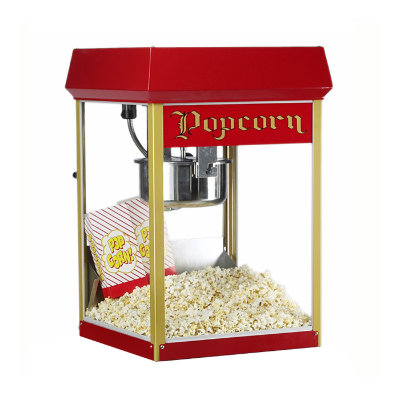 Popcorn Machines
Easy to use medium-to-high volume commercial machine, with warming deck. Yields roughly 150 servings per hour.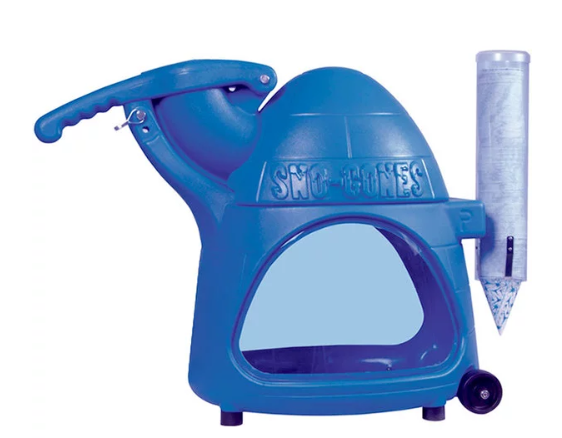 Snow Cone Machines
Nothing makes a party cooler than renting a snow cone machine. Ice not included.

Need Help Planning Your Carnival Event?
If you are in need of some help planning your next event, don't hesitate to give us a call or email us via the contact form below. Our event planning experts can give you tons of great ideas and offer you some great suggestions based off of decades of successful event planning experience.

Why choose Jump and Slide:
- We can help you plan your event by coming to you and your site to make a custom package based off of the theme, budget, and space you have available.
- We offer an on time guarantee so that you can have peace of mind going into your event that we will be there and have everything set up for all of your event guests to enjoy.
- We have an inventory of almost 1000 different items to choose from, which means we have something for every occasion.
- Much of our inventory is new or like new, which means it has some of the best safety features in the industry.
- Our rental items get cleaned and sanitized after each use.
- We are licensed and insured.